Free Consultation
The First Step
At New Image Hair Extensions Manchester we offer a free private consultation. This is to determine if you are suitable for hair extensions and to make sure you get the best result possible. We have over 30 years experience in hair extensions and are the longest running salon to date. No-one knows hair extensions better that we do, we have a client base that travel from all over the U.K to prove it.
At your appointment you will be able to see us action, browse through our extensive before and after portfolio and meet the dedicated team. We will also teach you how to look after you new hair extensions so you feel confident from the start to when you leave the salon and show of your new look. At New Image Hair Extensions Manchester all our Remy hair is guaranteed for 3 months as is the colour match, check out our five star reviews on Facebook or scan through our informative blogs to find more useful information. You simply can't go wrong, Give us a call or message us to book your free consultation, we are only a phone call away.
Making sure hair extensions are right for you and explaining how to properly look after your new hair extensions to get the best results from them is all-important before you go ahead. With New Image Hair Extensions we want you to be happy with your extensions and be able to look after your extensions confidently in your own home. We are a full, ongoing salon, established for 25 years, with a vast client base from all over the UK. Please call in anytime and see one of our stylists. We will show you many 'before & after' photographs of hundreds of previous clients, many of whom are now regulars.
You will be able to see hair extensions being applied on customers who will gladly sit and chat to you. Feel the quality of our beautiful human hair which is unique to New Image. You will get brochures and all the prices which are set and very reasonable.
When you come in for your consultation, we will be able to see your hair and discuss what you want with no obligation.
Applying Hair Extensions is a craft, an art form.
Our Extensionists have over 30 years experience in applying extensions and pride themselves that the job will be perfect. Consequently they are extremely busy and we advise you to book well in advance if you decide to have them done.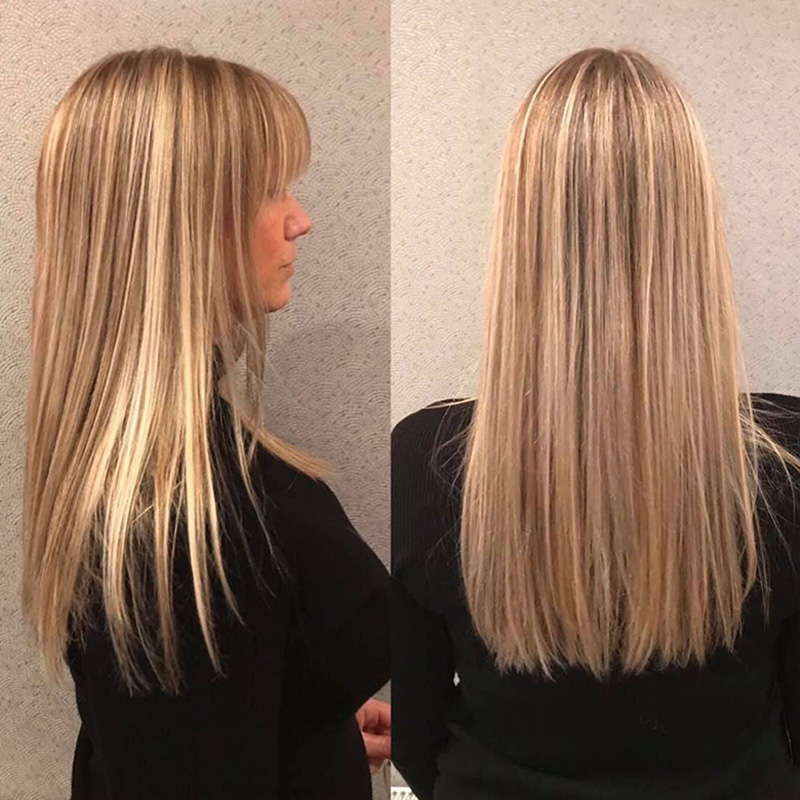 Book Your FREE Hair Extension Consultation
For an instant and accurate quote please attach two photos to the form following the below format. Please make sure we can see the ends of your hair. If you'd prefer to come into the salon or discuss over the phone please leave the photo field blank and we will be in touch to arrange a convenient time and date.
---
Call or fill in the simple form below and we will contact you to discuss arranging a FREE Hair Extension consultation at our Manchester salon.