Fusion Bond Hair Extensions
At New Image Hair Extensions, Manchester we have been applying Fusion Bonds for the past 18 years. It still proves to be one of the most popular methods of extensions and the oldest method. There are different forms of bonds from glue to plastic. Here we use a system that uses small plastic granules, which we find are the best bonding adhesive for your extensions.
Applying the Bonded Hair Extensions
A small section of your natural hair is sectioned, we take the blended extension and place a small amount of the plastic adhesive to the tip of the extension and roll it into a bond. The bond is always placed approximately 2cm away from the root of your hair, this is to ensure correct and straight growth over the next few months. The result is that it leaves your hair lying flat on your head. The bond is very neat and small (like a grain of rice). For a clearer view click on our video to see the application process in action.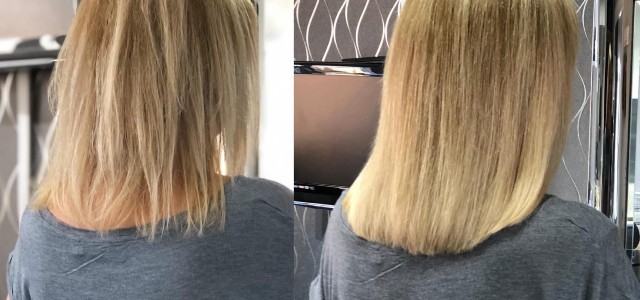 Benefits of Fusion Bond Hair Extensions
This is the smallest resulting method available, so this would make this system the MOST disguisable.
Very suitable for people with FINE hair, but still works well with people who have thicker hair.
Lasts approximately 3 to 4 months.
They are not affected by salt water or chlorine.
Fusion Bond Hair Extensions Considerations
If not maintained well bonds can break down after some time if your hair is not washed regularly.
Bonds have been known to shed more than rings. This ONLY happens if you do not follow the appropriate maintenance methods.
If you require more information, please do not hesitate to talk to us.