Blog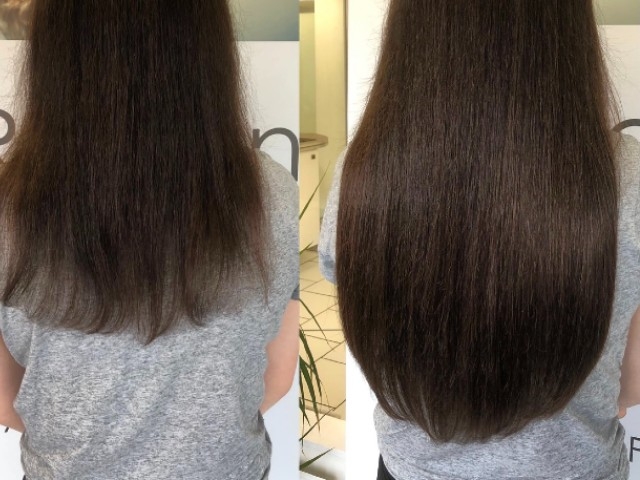 4 Signs It's Time To Get Hair Extensions
14-03-2018
4 Signs It's Time To Get Hair Extensions
The thing about hair is that it's always changing and growing. Obviously we need it to grow, but when we've just had an awesome new haircut, that's the last thing we want! Yet as our hair is constantly changing in length, sometimes colour and sometimes thickness, it's pretty much impossible to maintain the exact same hairstyle throughout your life.
Having said that, why would we want to? Our hairstyles are just another way we can express ourselves, much like the clothes we wear; over time, what we want to express can change. The problem is that there are times when the changes we crave aren't within the capabilities of our natural hair.
Fortunately, that's where hair extensions come in handy! When you're feeling unhappy with your own hair, it could be time to give hair extensions a try. If you can identify with any of the following points, hair extensions could be the answer:
1. You're impatient for your own hair to grow
Everybody's hair grows at slightly different rates. Every strand of hair is at a unique stage of development, and it grows in cycles. The general speed at which hair grows is about 1.25 centimetres or half an inch each month, which equates to around 15 centimetres/6 inches each year.
There are various factors that can prohibit hair growth, from the state of your health, to your hormones, your age, or just lack of maintenance. Whatever the reason, there are times in life when it can seem that your hair is growing painfully slowly. The good news is that you don't need to wait anymore. You just need to give hair extensions a try.
2. You want to experiment with a new look
We humans really crave variety don't we? For most of us, that's true, and especially when it comes to our personal appearance. One day you might wake up, look in the mirror and think, "That's so last season!". If you're in desperate need of a change, the simplest shortcut is hair extensions. They offer you a way to completely transform your look in just a couple of hours.
Sometimes people get hair extensions because they want to experiment with different hair colours through their hair, but they aren't sure if it's going to look right. Sometimes they're concerned about hair damage from product overload. Hair extensions give you so much freedom to experiment with different looks without altering your own hair. Perhaps you want to try out an ombre or beautiful balayage style; either way, if you tire of the look, you can simply remove your extensions.
3. Your hair is too thin or fine
Many women suffer from loss or thinning of their hair as they get older. It can also happen due to over-processing, heat damage, hormones, medications and certain illnesses. When your hair starts thinning, it tends to damage your confidence; you really find out how much you take your hair for granted when it suddenly changes. Sometimes there just isn't much that can be done about it…. apart from hair extensions, of course!
Other people just have naturally fine hair, and it may never have been any different. Hair extensions can add so much more body and thickness to your natural hair. It's amazing how different a person can look with a bit of extra volume in their hair, so it's no wonder that hair extensions have become so popular over the last few years. With some quality hair extensions, you can get both length and volume at the same time, creating the look you've been dreaming of.
4. You're unhappy with your new haircut
Your hairdresser may have had the best intentions, but sometimes that just isn't enough. Whether your request got lost in translation or your stylist was a little too scissor-happy for your liking, there's nothing worse than walking out of the hairdressers with a lighter purse and a disaster hairstyle.
As hair extensionists, we can assure you that we see this all the time. You need not wait a year or two for your hair to grow back; you can have a few well-placed extensions put in to disguise the style… and nobody would know the difference. At New Image, it is our business to transform any kind of hairstyle into something our clients are happy with. We know how it feels to be disappointed with your hair, so we do everything in our power to turn the situation around for you.
Get in touch with us now to discuss your hair requirements and we'll be happy to talk you through the process and put your mind at ease.
---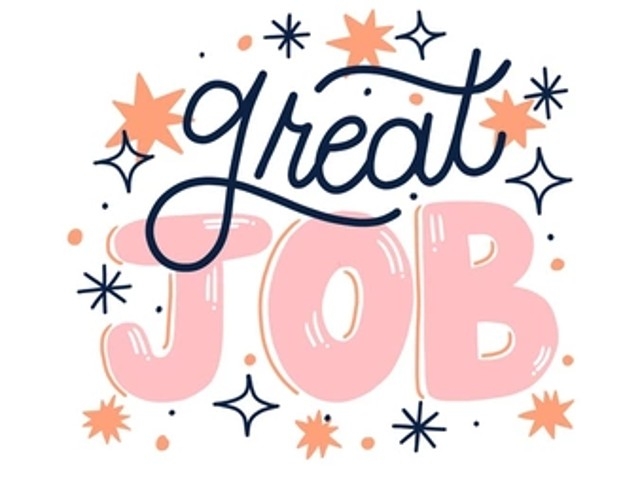 Nightmares in Hair Extensions: New Image to the Rescue
08-02-2018
Nightmares in Hair Extensions: New Image to the Rescue
My name is Caroline, and I am someone that previously had no real idea about hair extensions and what they entailed. All I knew was that I didn't really like my hair much - it's fine and won't grow past my shoulders without splitting – so I wanted to do something about that.
I was always envious of girls with long, flowing locks, so when I finally found a way to make that happen, I jumped at the chance. While I was staying in Thailand, a friend of mine got hair extensions fitted and it looked like a total transformation. I didn't ask too many questions (mistake number 1), I just went and found someone that could do it, and came out with long, thick hair. Great! I thought. That was mistake number 2.
Things quickly started to fall apart - After one shower and blow dry, I had already lost three extensions. I assumed my hair was too fine and soft to hold them - mistake number 3. A picture is probably starting to form here: it's so easy to find people who will put hair extensions in for you, but if they don't know what they're doing and you don't know what to look for, things are going to go badly wrong. I didn't know just how badly, at that point.
To cut a long story short, I had an attempted repair job in India after having lost 16 of my Thai extensions. The Indian job was a joke too. Frustrated, I flew back to England and hunted down a UK extensionist, assuming it would be better here. That was mistake number 4.
She did a refit on my hair, loosening and then pushing the rings upward and re-fixing them. The whole process hurt, and after I left, I found she'd missed several out so my hair was different lengths. I couldn't even rest my head on the pillow to sleep for two weeks!
My hair went from bad to worse - As I couldn't see the back of my head, I was unaware of just what a mess it was. My hair soon became matted and tangled and I was tearing it out with each brush stroke. I'm cringing, in hindsight. Anyway, that's when a friend of mine saw it and balked. She said, "Get down to New Image now and sort it." So that's what I did.
I contacted New Image and they were thorough from the start. They asked me to send pictures of my hair and went through them, explaining what was done wrong and confirming my fears that my hair was a disaster zone. I booked an appointment and went down.
On the day, they went through my hair with a fine-toothed comb, so to speak. Steve explained to me that they had put my extensions in with no real strategy, with no clear lines, and taken too much hair from the wrong angles. They had also bunched the extensions together in irregular amounts; some were too thick, some too thin. My hair was being pulled out by the heavy ones, and after one wash the extensions were looking separated from my own hair.
As always, quality is everything - Steve also explained to me that the low-quality micro rings they'd used had no silicon inside, so the metal was literally shearing my hair. I was left with broken, wispy hair sticking out at all angles. They had also doubled up on rings, which baffled the team and had only caused more damage to my hair. What an absolute mess!
Chloe and Alex set about carefully removing the extensions. Steve took them and started to clean them up, throwing out unusable ones and mixing in New Image's hair to even out the tone and thicken up the extensions. He then made them into new extensions to be refitted. Before refitting them, he explained to me that because of my fine hair, they should be attached in a different way (from ear to ear), avoiding the sides where my hair was finest. This way the rings wouldn't be visible, as they had previously been.
After I understood the method and process, my hair was washed and dried, and extensionist Sam started the application. It took around an hour and a half, during which time she carefully layered the extensions in precise rows. Throughout the process, Sam and Steve talked me through what they were doing and why, and showed me the work at several stages. The difference in quality was unreal!
The results were nothing short of miraculous - Once the extensions were all in place, Sam went through and trimmed the ends into shape to create a perfect finish. When I saw what she and Steve had done, I was amazed. It was a 100% improvement on what I had; I could run my fingers through my hair and brush it without ripping my hair out. When I went to tie it up, there was no pain and no micro rings were visible.Steve gave me full, thorough aftercare instructions so that I would know how to look after my hair and make the best of it. He also told me about New Image's aftercare service, meaning that I could go back anytime within three months for any corrections if needed.
My hair looked completely natural and felt lovely, and on my first night in bed, there were zero issues sleeping on it. Originally, I had been shocked when I saw the state of my own hair beneath the previous extensions. However, the New Image team gave me confidence that it would be able to grow naturally again with their extensions in it.
They really went the extra mile to make sure that I was fully happy with it... which of course I was. These guys are true professionals. They took the mess that I brought to them and systematically corrected it with amazing results. I have to say that after my experience with New Image, there is no way I would go anywhere else. It's just not worth it, as the alternative means going back and paying for endless corrections, and damaging my precious hair. Surely only a fool would do that?!
---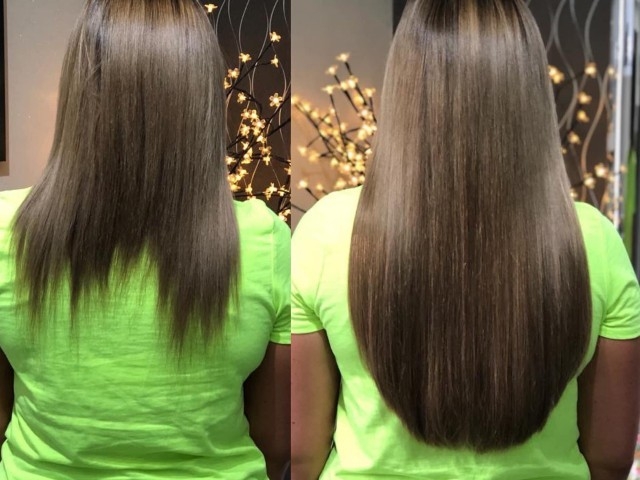 Hair Extensions to Hide a Bad Hair Cut
02-01-2018
Hair Extensions to Hide a Bad Hair Cut
We've all done it; you've gone and got yourself a layered bob or visited a scissor happy hair stylist. Now you're left with a horror hair emergency that needs a quick fix. We see many ladies who have done exactly that.
Luckily at New Image Hair Extensions Manchester we can help disguise this upsetting situation simply by adding a few cleverly positioned extensions. Correction work at New Image is something we see quite often so if you have suffered a bad hair cut or simply can't wait to have your long flowing locks back then call us and book your free private consultation today.
---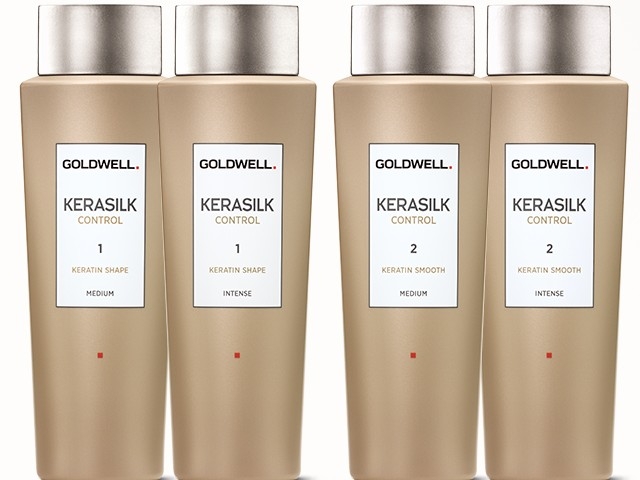 What is keratin? All you'll ever need to know
26-12-2017
What is keratin? All you'll ever need to know
If you've ever had a Keratin hair treatment then you know just how silky smooth it can make your hair feel, but just what exactly is this remarkable ingredient, and why does it feel so great on your hair?
Keratin is the protein that protects epithelial cells from damage or stress. Keratin is extremely insoluble in water and organic solvents. It is the key structural material making up the outer layer of human skin, hair and nails. Keratin is reduced when hair is damaged physically, chemically and/or from environmental factors, such as the sun. This keratin loss exposes the hair's cortex, making it susceptible to additional damage. Replenishing lost keratin helps to correct porosity and smooth the hair's surface. It restores strength and elasticity, giving the hair a more youthful, healthy appearance.
Which hair types can benefit from a keratin treatment?
All hair textures will naturally contain different amounts of keratin. If you have naturally frizzy or curly hair, it will contain less keratin than that of someone with naturally straight hair. You'll also have less keratin in your hair if it's been coloured or permed. A keratin treatment or daily use conditioner can help reverse that feeling of dull, dry hair, and restore a smoother, shinier appearance. Hair extensions will benefit the most from this astonishing ingredient.
Keratin treatments for hair extensions:
At New Image we will talk you through exactly what your new hair extensions will require to keep them looking great. We will advise you on the correct products to use and these can be purchased on the day. We highly recommend the use of a daily keratin conditioner and in addition to this a weekly keratin mask for the ultimate nurture. Goldwell kerasilk is one of the best on the market. It contains just the right amount of silks and Keratin needed to maintain your new hair extensions.
---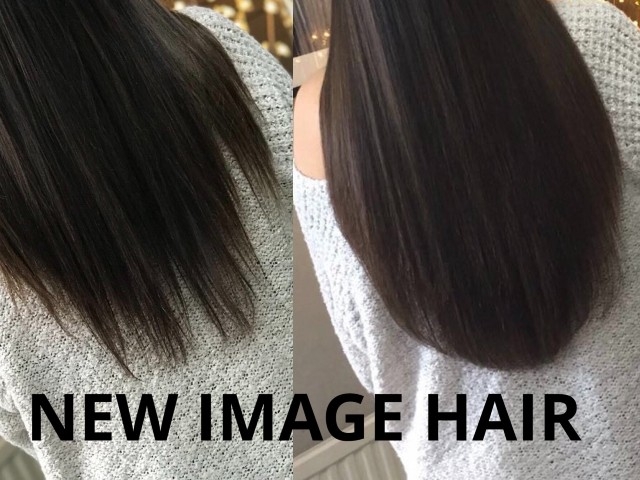 Best Hair Extensions: How can I find an Extensionist I can trust?
29-11-2017
Best Hair Extensions: How can I find an Extensionist I can trust?
So, what are the best hair extensions? It's the million dollar question. There are just so many different types, methods and application techniques out there let alone asking about double drawn and REMY hair. The best hair extensions are HUMAN REMY HAIR. This means that the cuticle runs in one direction so the hair follicles are all going the same way just as your own natural hair does. If you can imagine running your finger the wrong way up your own hair what would happen to it? It would mess up the cuticle leaving an uneven, unsmooth finish. Making sure that your hair extensions are Remy is paramount to a natural, long lasting finish. So you've chosen the hair you want now you need and expert to fit them!
Best Hair Extension Methods:
There are a multitude of techniques out there, wefts, clip in's, micro bond and rings to name but a few. At New Image Hair Extensions Manchester we specialise in Micro bonds and Rings. We believe that is this the most undetectable method around. Rings are just so easy to maintain and make tops ups a joy. Extensions should give you a healthy, natural finish and no-one should be aware that you're wearing them. Bonds are equally as good and extremely discreet; these are best used at the sides of your hair especially for fine hair. Wefts and other methods like tape simply wouldn't cut it; they would be seen through fine hair and pull far too heavily leaving your own hair susceptible to damage. Rings leave no damage whatsoever as they are lightweight and effortlessly removed in seconds.
Find The Right Extensionist:
Many extensionists will try to tell you that they are fully qualified in fitting your new hair. This simply isn't true and to the detriment of the hair industry. You can't go on a day's course, get yourself a certificate and practice on your friend's hair a few times to be a first class extensionist. This takes month's even years of practice. Something we know as we've been in the business for over 25 years. Ask for their credentials and always go on a recommendation. Check the Facebook page for reviews and interact with other people on there before making your decision. It's the only way to guarantee you get value for money and an excellent result.
Colour Match:
It's impossible to get a flawless colour match unless you hand blend the hair to the clients. You can't buy one pack of hair to achieve this. Sometimes 8 packs of different colour hair are necessary to get that exact match. No-one has one colour it is always multi-tonal. Ask if they use pre-bonded hair, if so you know that this can't be hand blended in front of you. We blend each and every strand to attain this, so it's tailor-made just for you.
---